︎
Elena Montesinos
Souvenir
3 Febrer - 18 Març, 2023
---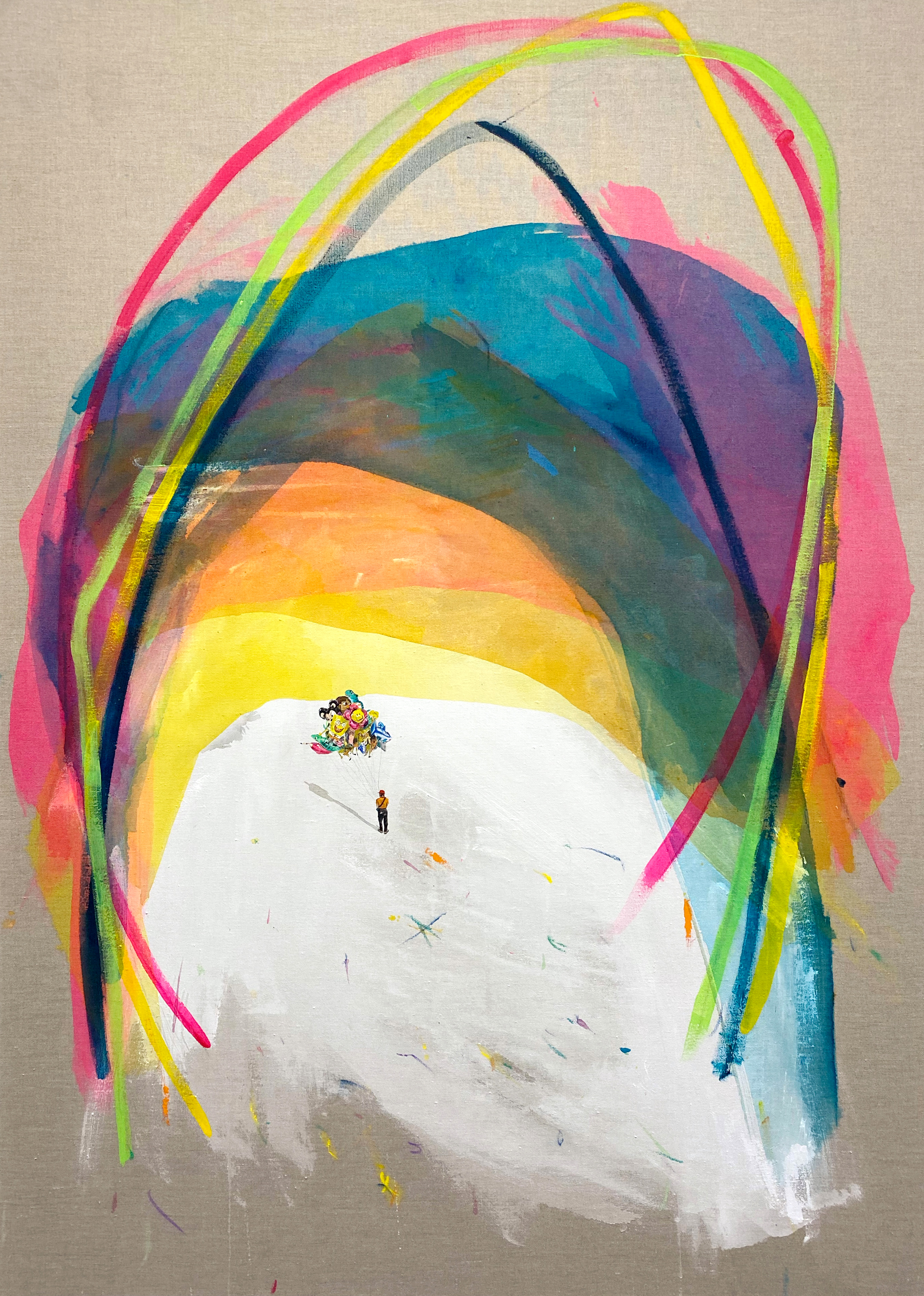 ︎ SHOP ONLINE
---
Elena Montesinos (València, 1986) va començar a exposar en 2008, participant en diferents exposicions col·lectives i individuals a nivell nacional i internacional.

Partint d'una recerca centrada en la il·lustració, l'artista s'obsessiona amb la forma i el color, formes que sintetitza fins a l'abstracció i colors que moltes vegades només viuen en la seva memòria.

Les seves obres estan habitades per petits personatges de carn i os, diminuts éssers perduts en mars i cels que probablement només són visitables mitjançant el record.

A "Souvenir", Montesinos ens ofereix els seus records, vivències i emocions del passat com a souvenirs que els turistes acumulen per a no oblidar el lloc on han sigut una mica feliços.


_____________

///ESP

Elena Montesinos (València, 1986) comenzó a exponer en 2008, participando en diferentes exposiciones colectivas e individuales a nivel nacional e internacional.

Partiendo de una investigación centrada en la ilustración, la artista se obsesiona con la forma y el color, formas que sintetiza hasta la abstracción y colores que muchas veces sólo viven en su memoria.

Sus obras están habitadas por pequeños personajes de carne y hueso, diminutos seres perdidos en mares y cielos que probablemente solo son visitables mediante el recuerdo.

En "Souvenir", Montesinos nos ofrece sus recuerdos, vivencias y emociones del pasado como souvenirs que los turistas acumulan para no olvidar el lugar donde han sido un poco felices.


_____________

///ENG

Elena Montesinos (València, 1986) began exhibiting in 2008, participating in different collective and individual exhibitions nationally and internationally.

Starting from research focused on illustration, the artist is obsessed with shape and color, shapes that she synthesizes to the point of abstraction and colors that often only live in her memory.

Her works are inhabited by small flesh and blood characters, tiny beings lost in the seas and skies that can probably only be visited through memory.

In "Souvenir", Montesinos offers us their memories, experiences and emotions of the past as souvenirs that tourists collect so as not to forget the place where they were a little happy.
#ElenaMontesinos
#YOKOartgallery
---
Comisariat per:
Xavi Sellés
ElisaTenedini
---